I live in northern Canada, and in stereotypical Canadian weather, we are having a major blizzard today! For those of you who have never experienced a "snow day," I thought I would share the joy!
Okay, I'll admit, I have mixed feelings when I wake up, expecting to see the sun in a clear blue sky and instead, it's gray skies and snowflakes falling down like there's no tomorrow. But, it is beautiful, and there's a certain awe and feeling of fun — for me, anyway — when it's all snowy outside.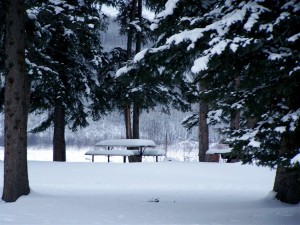 But the true beauty of a snow day is that school is canceled! That's where the joy of snow days originates — when you're in grade two and it's a snow day, it's the best day of your life! For us adults, a snow day is the perfect excuse to just lay low. You can cancel whatever you had planned, and just hang out at home, preferably with a good book and a fire blazing in the wood stove. And even if you have to go out, it's kind of an adventure too see how bad the roads are, how your vehicle performs and see if you can get to your destination without getting stuck. For kids, it's the perfect opportunity to go sledding (tobogganing) or make snowmen or snow forts. Hmmm… why don't we adults make snow forts any more? We should — we would probably be a lot happier if we just played in the snow now and then!
So if you are feeling stressed, let me officially give you permission to take a snow day. Cancel whatever insignificant errands you had planned. Hunker down and get cozy. Treat yourself to something you like to do and pretend you're all snowed in, wherever you are. 🙂
*Perhaps for some of you, you can replace the word "snow" with "sand" or "surf." 🙂