A little while ago, I wrote a post about thinking, and how certain thoughts make me feel good and I can improve my mood by changing my thoughts. This is a grand form of self-manipulation, and I've been doing it a while so I'm getting pretty good at it.
But manipulating my feelings is not always a good thing to do. Sometimes, my feelings are actually my intuition trying to get through to me, to tell me that something is not right… that I need to change what I am doing… or that I'm making a bad decision. So, I have been learning to listen to my intuition better (read Part 1 here).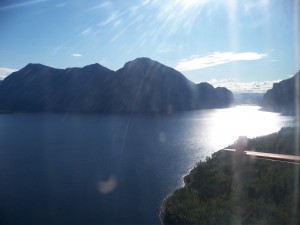 The other day, I had yet another realization when it comes to thoughts and feelings. I had been meditating for a while, and my mind suddenly wandered away from the happy, healthy, harmonious thoughts I had been thinking. I mean, I was feeling really good, humming along at a very high vibration, and feeling very "floaty." And then, out of the blue, I thought "I really need to log in to the online banking and see how much money is in the account." Woah. I distinctly felt my body react to that thought. It was a slight churny feeling in my gut. So, I made a note of it, re-centered myself, and continued meditating. A little while later, my mind wandered again, and all I thought was "I should check what time it is." Again, I had a little "worm wiggle" in my gut — very slight, and not exactly in the same place or same way as before, but definitely in response to the thought.
I am sure you have had the experience where you talk about food with someone, your gut "hears you," and pretty soon it's churning away and you're feeling very hungry. It's happened to me many times, and the strongest when I am talking about my favourite foods! It's like my gut is saying "give me some of that! That sounds awesome!"
Interesting, isn't it? When I was meditating, I felt exactly what those thoughts did to me. Both were related to a lack of something — time or money — and had deep, hidden roots in worry. And here I thought I never worried! Well, I don't worry much, but even just a little bit of worry affected me physically, so I can't imagine what a full-blown worry-fest would do. Would it affect my digestion? Almost certainly. Would my thinking be clouded? Most likely.
My beliefs about money and time seem to be connected to my gut, and I don't know if this is universal, or if you would find that a different part of your body responds to similar thoughts. I think it is probably different for everyone, because all our beliefs are individual. No matter what, recent research is showing more and more that we have huge numbers of neurons (brain cells) in our gut. Scientists have proven that our gut chemistry affects our moods, and we all know that thoughts affect our moods, and now I've put the other side on our triangle — our thoughts affect our gut. So if one of the three — gut, moods, thoughts — isn't healthy, looking at the other two can help to fix it. For many of us, it's the gut that shows up as unhealthy, so it's good to know that by changing our thoughts and moods, we can have a healthy gut again.
We are energy beings, so we need to remember to take care of ourselves on all levels. Often when we are sick, it's because our intuition has been trying to get our attention, to tell us something VERY important, and we just aren't listening. When we get sick, we are forced to stop and take notice, reevaluate our lives and make new decisions.
If you would like to try this experiment on yourself, let me know your results! I'm sure your mind will wander naturally, so don't feel like you have to think about money or time. Just let me know your experiences (you can leave a comment or contact me directly if you prefer). 🙂