Another new year is here!
In keeping with tradition, I like to take a little time to review the past year and make plans for things I'd like to do in the coming year. I do not, however, join in on a few other well-practiced traditions:
– beating myself up over things I've eaten over the holidays, weight I've gained, or any other thing I've done.
– making ridiculous, unrealistic New Year's resolutions — for me, that would be to stop eating chocolate or cheezies!
– beating myself up over resolutions broken — or shall I say, blasted into smithereens, like a high-speed collision between two satellites in space.
No, I don't beat myself up over anything. I've come a long way!
To beat myself up would be a savage act of violence to a survivor of violence, an act of profound disrespect for the journey I have been on. It would be like peeing on Martin Luther King's grave or stomping on the tulips that so stalwartly push through the soil in spring.
As I said, I've been through a lot. When I first left home, I went through a very difficult stage, adjusting to city life and making ends meet. I went to the food bank at my church a few times. I was shy, but it was really self-discovery. I had good boyfriends and bad, and a marriage "we won't speak of." It was bad, but on the flip side — the recovery side — I unlocked creative potential I never knew I had. I wrote upwards of 10 songs. I was a singer in a Christian rock band for 4 years. Then I started writing; the creativity needed an outlet somewhere. I've written two books* so far and countless blog posts.
I've gone through phases where I didn't like myself much. I've even had, for a short time, suicidal thoughts. I've had to work hard, physically and mentally, to shed all that baggage and baloney that was weighing down my spirit, festering in my mind.
Yes, I've come a long way. I'm so incredibly happy where I am now. The changes in me were not sudden, yet they've been significant. They were gradual, and inevitable. You cannot hide from the Light for long, before it finds you, warms you up, thaws your frozen heart, and lets you know you are loved.
You are loved.
You can do it.
You will make it. If I can make it, so can you.
You don't have to change.
Change if you want to, not because you hate yourself. You know, even if you are in exactly the same place a year from now, you won't be a failure. You are precious, and you are on the perfect journey.
Do some things differently in 2014, if you'd like, but do it because you'd like to see where it takes you. Do something new to have a new experience, but while you are learning, changing or just living, be easy on yourself. We are always changing — nothing stays the same — so why not think about what kind of person you'd like to become… what direction is your change going in? I find this more helpful than making resolutions!
New Year's is a great time to reflect and review, but never let yourself get lost in the past. (Chapter 28 in Love Your Skeletons talks about this more.)
Let 2014 be the year you appreciate yourself more, forgive yourself more, and love yourself more.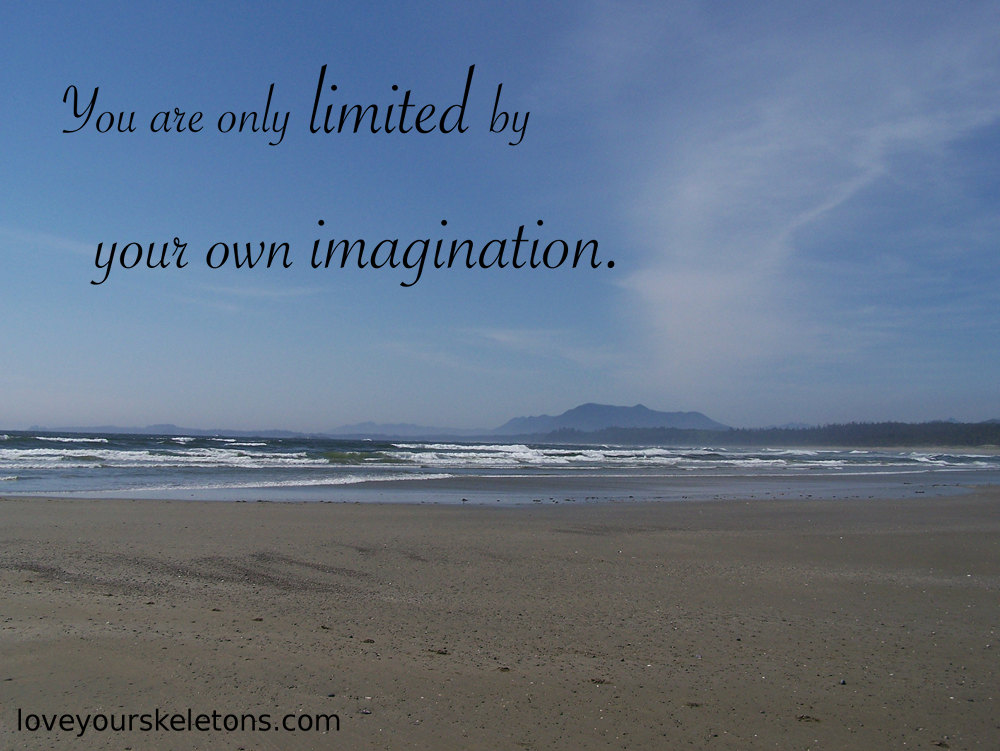 Related posts:
Starting Over…
Lifelong Growth
What Does the Future Hold?
*My first book is the one associated with this blog, Love Your Skeletons and my second book is York Boat Captain: 18 Life-Changing Days on the Peace River.