I mentioned centering yourself in Part 1, but felt I should expand on that some more. I would like to "de-mystify" some aspects of centering yourself and explain some new-agey-sounding terms in plain English.
Calming Down
The initial way to think of centering yourself is just to calm down. You can do this any time by taking a few deep, conscious breaths. What do I mean by "conscious"? Just be aware you are doing it. Think and pay attention to how your body feels while you breathe. Do nothing else for a second. Breathe… This is the first and vital step to calming down.
Pause and ask yourself what you were just thinking about. If you don't know, that's okay. If you can recall it, now see how it was making you feel. Was that train of thought making you feel good (excited, energized, happy) or bad (stressed, tense, worried). These "feelings" can be either mental/emotional (such as frustrated or depressed) or physical (tension in the neck, stomach uneasy). Now you have become aware of how your thoughts make you feel!
If those thoughts are particularly strong, you might want to have a "wave experience" as I describe in my book (chapter 19). This will help you pass through the emotions and gain some insight about them.
To connect with your intuition, continue "centering yourself." Some physical things people like to do include putting both feet on the ground, sitting cross-legged, or laying flat on their backs. Some like to do this to increase their connect to the ground, kind of like grounding an electrical circuit. Others like to connect to Mother Earth. If you do it the same way every time, this helps "program" your body for connecting to your intuition.
Keep breathing all the while. Okay, that might sound obvious because if you stopped breathing, you'd die, but believe it or not, I need to mention it. We often hold our breaths without realizing it, or breathe in shallow, quick breaths. Taking slow, deep breaths does something to our bodies — something that helps us slow down, focus, and reconnect to the present moment. That's why activities like singing and sports feel so great — we are breathing deeply, and paying attention to the moment in either to hit that note perfectly or score that point.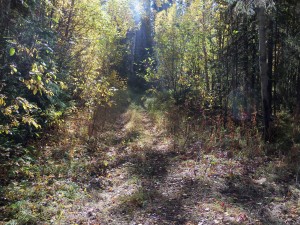 Your mood will probably improve simply as a result of these actions. If you feel sort of "neutral," consciously think about something that makes you feel good — like remembering a pure, happy memory or a time when you felt really great. If you focus strongly on these happy thoughts for a minute or so, you will really start to feel great. This is what people mean when they say they are "raising their vibration." It is a conscious decision to feel better by thinking thoughts that make you feel better. You may also want to tell yourself something that you know will perk you up. If you are living a very stressful life, you can also take advantage of classic de-stressing techniques like taking a hot bubble bath, lighting candles, getting a massage, going for a walk in a park or other natural area to appreciate nature, etc.
Of course, there is no guarantee that following these steps will help you connect to your intuition, but they vastly increase the odds. One last thing: be ready to receive and write down (or record in audio) the inspiration you receive! Keep a note book by your bedside, in your purse or bag, or in your vehicle. Be ready to open a simple text editor to type in your computer.
My favourite way to "make notes" is to talk into a small audio recorder, especially while I am driving alone. It has 2-button operation, so it's very quick and easy. When I get an idea, I grab it and start talking!
I hope you have found this series on hearing from your intuition helpful! If it has touched you, please leave a comment!

– The "Hearing from Your Intuition Series" –
Hearing from Your Intuition (Part 1) Feel the Answer | Hearing from Your Intuition (Part 2) Tapping Your Imagination | Hearing from Your Intuition (Part 3) Detailed Messages/Knowing | Hearing from Your Intuition (Part 4) Centering Yourself